While we love EVERY greyhound, the NGF specializes in those HARD TO ADOPT greyhounds with SPECIAL NEEDS that many people don't want!
Meet IRONMAN, a special needs puppy saved from Euthanization by your gifts. He is an inspiration to ALL animal lovers.

When the Greyhound Foundation goes into a kennel or farm, we pick up 50 dogs at a time. The first thing Beverly does is ask, "How many hard to adopt dogs do you have?" She always takes those dogs along with the perfect greyhounds too. They can be injured, old, brood mamas, broken legged dogs, seizure pups, scarred or even those with behavior problems.

With YOUR help, they all found "forever homes."
MEET A DOG YOU SAVED
We invite you to join our Greyhound Family.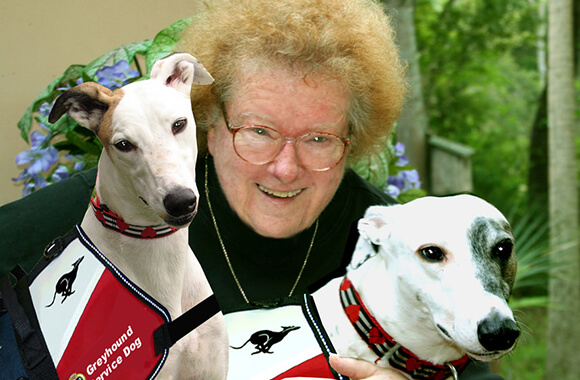 We are one big family connected by our love of animals and people, but especially retired racing Greyhounds. Together we are helping find them all a "forever" home.

"I've never met a greyhound I thought was un-adoptable," she told a reporter in a recent interview. "We just need to listen to them, match their needs with their human soulmate, and place them in the right "forever" home." Yes, if given the chance, they will pick their soulmate! Guess that's why I have been their Guardian Angel for all these years
Become a Guardian Angel today!
MEET A DOG YOU SAVED